Construction Zone Songwriting Collaborative
and Recording Project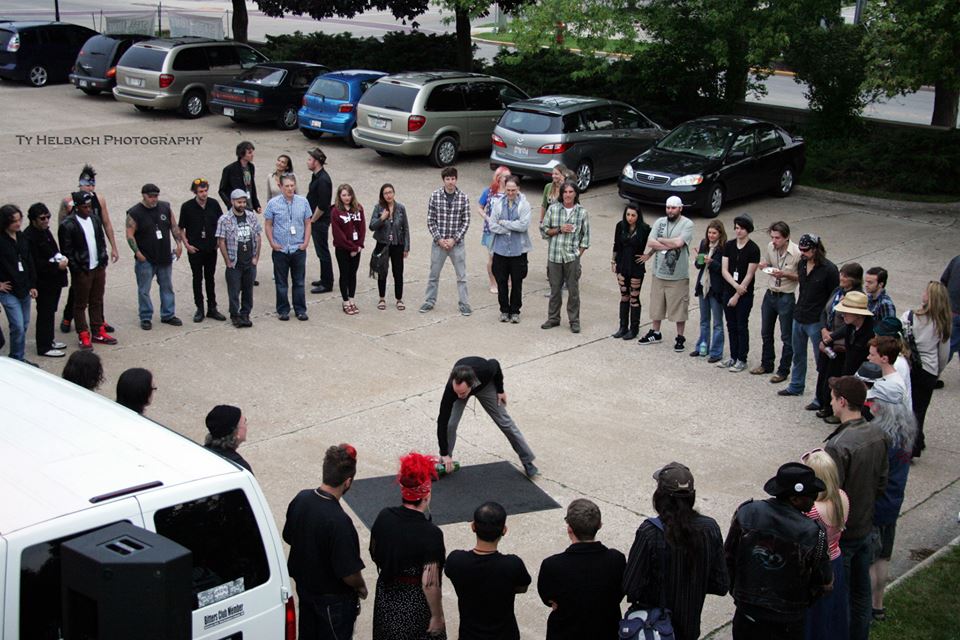 photo by Ty Helbach 
The Construction Zone is one of three week-long collaborative songwriting and recording intensives hosted jointly by the Holiday Music Motel and the Steel Bridge Creative Foundation. Invited participants take part in a week of collaborative theme writing, culminating in two live theater shows on the weekend.
The sessions begin with a meet-and-greet dinner for all writers. Out-of-towners are housed at the Holiday Music Motel, located kitty-corner from the Steel Bridge in downtown Sturgeon Bay. All 18 rooms are blocked out for songwriters during the event; accommodations are free of charge. Writing groups of three are arranged by a nightly game of spin-the-bottle. Songs, after being declared  finished, are recorded in various onsite studios. Writers are strongly encouraged (though not strictly required) to derive inspiration from the Steel Bridge.
The Bridge-with-a-capital-B has long been a potent metaphor in popular song. The Steel Bridge is a great symbol of strength and of joining together, the melding of diverse cultures, divergent views, the old and the new, the words and the music, the tangible and the intangible… The word "bridge" doesn't need to be used in expressing thoughts and emotions inspired by the presence of a steel span. The connection need not be conscious. It just happens.
Writing takes place in motel rooms, coffee shops around town, by the waterside, any place writers want to go for focus, stimulation, or solitude. Recording studios are manned almost 24/7 by professional engineers. Every night at dusk, attendees listen to mixes of the songs that were written and recorded the previous day.
Unlike most songwriting events, there are no attendance fees; food, drink, and accommodations are free for the participants, and writers retain full ownership of their portion of songs written at the event. By signed release, the Steel Bridge Creative Foundation is granted the right to create and sell albums (CDs, downloads, streaming, etc.) to document the events and benefit the local community. For these releases, mechanical royalties are waived as donations to the Steel Bridge Creative Foundation. Artists are also encouraged to release songs and/or recordings created at our events as part of their own albums and projects.
The Construction Zone Songwriting Collaborative is brought to you by: